I know I shouldn't cherish such memories. Rastrick Grammar School was a respected and soberly institution. It gave me a superb education. But, deep gratitude to dedicated staff such as Mr Nichols ('Sir,' and never 'Eric') aside, such tantalizing recollections of teasing the teachers for theatrical value fondly fill my mind.
Happy days. This photograph was taken on a summer holiday at the East Coast, with older brother Martin, Mum and Christopher. Little did Christopher know then that one day he would be travelling far and wide around the world and making a new home in Palm Springs, California
My entire future - in fact, my profession and present - I owe to my earliest memory at RGS. Eleven years old. My first geography lesson. Ordnance Survey maps are laid out. Soon enough I'm plotting routes and drawing volcanoes and other geomorphological features, unknowingly mapping out my life ahead through my evolving love of an enrapturing world slowly unfolding like that big OS map. (Later in life, mum told me I liked to draw maps - especially of the USA - on those big birthday cards of yore that unfolded like origami before 'save the forests' was popularized).
I was born in Pontefract: coal slag heaps were my playground until my family relocated to Brighouse in 1966 and, if not wider horizons, at least fresher air. Holidays meant visits to our caravan at Bridlington and donkey rides on Scarborough beach: sometimes to Torquay or Bournemouth. I travelled further afield vicariously through my granddad's slide shows following his annual holidays by Dormobile throughout Europe. A seed was unknowingly being sown.
And so, in 1973, to the Great Wen to read Geography at University College. I specialised in geomorphology.
In 1975, I participated in a university field-study program to the Moroccan Sahara, driving through France and Spain by Land-Rover on my first trip abroad. My passion for intellectual discovery had long been present, but the experience of a month in the desert with Berbers sparked a lust for discovery through adventure and travel.
The following year I participated in a field-study program in Poland (it was still Communist back then) that included an indelible visit to Auschwitz: and that summer I spent two witheringly hot and eventful months as a research assistant in the heart of Algeria's Sahara Desert. (The latter became the inspiration for award-winning UK writer Clare Chambers' novel, 'A Dry Spell.')
After two years studying at the Center for Latin American Studies (Liverpool University) and Institute of Education (London), where I trained as a geography teacher, I floundered, unsure of my direction in life. But friends who'd separately hitchhiked around the world rekindled my childhood fascination with the USA.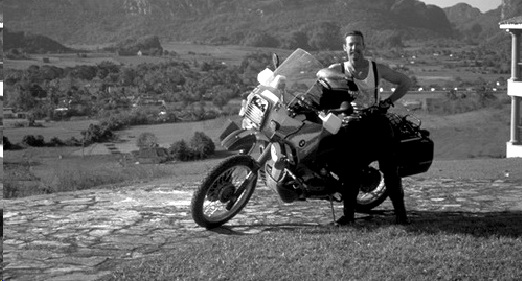 In 1978 I spent the summer hitchhiking around the 'States… and reported on the journey for the Brighouse Echo. The Berkeley (California) bug bit big and in 1980, after 18 months back in London, I headed to Heathrow airport with a backpack, my sights on California, and no plans on returning. I aimed at becoming a political journalist... until love messed with my mind!
Stupid is as stupid does! I'd worked hard washing dishes, sat my entrance exams to the School of Journalism at the University of California Berkeley, and received a Scripps-Howard Foundation Scholarship… which I flippantly turned down to become a dutiful income-earning husband to the California blonde I'd fallen in love with. Thankfully, serendipity delivered me a job in the adventure travel industry.
In 1982, I led a travel agent's 'familiarisation' trip to New Zealand and wrote a report on the adventure tour for a travel trade magazine. When a cheque for $200 for the story arrived in the mail, I had my 'Eureka!' moment and launched my career as a travel journalist.
I don't see my profession as a job. It is my vocation and an expression of who I am. To earn a living travelling to far-flung places and writing about my experiences combines two of my keenest passions. Fortunately, I'm motivated more by 'satisfaction' than money, as it's not always been an easy row to hoe. Several were the months when I couldn't pay the rent. Markets for travel journalism have constantly morphed. I've had to morph too to stay relevant.
In the early years, focusing on adventure travel, barely a month went by without partaking of some awesome experience. Not least as trainee crew member aboard the maiden voyage of HMS Bounty as it sailed from Vancouver, Canada, for London to participate in the Bicentennial Fleet of square -rigged ships reenacting the founding of Australia. I wrote and photographed guidebooks for Lonely Planet: ... syndicated my stories to newspapers around the globe:... made annual forays to pitch to my editors in London, New York, and Hong Kong.
Year by year my success grew, sufficient to have won the 2008 Lowell Thomas Award 'Travel Journalist of the Year' and to have been profiled in the Royal Geographic Society's Geographical Magazine. '. One of the elements Christopher loves about his profession is the ability it gives him to shape his professional life to his interests and whims,' the editor wrote. How true!
In 1993 I'd discovered bewitchingly surreal Cuba (at the time virgin territory). In 1996, I shipped my BMW motorcycle to Cuba and spent three months riding the island end to end, resulting in the publication of (eventually) five travel guidebooks on Cuba plus my National Geographic travel memoir, Mi Moto Fidel: Motorcycling Through Castro's Cuba. Cuba has since become my pre-eminent focus.
Today, at 65, retirement isn't part of my lexicon. I've just been commissioned to write a coffee-table book on Harley-Davidson motorcycles, and a guidebook on California. And an increasing amount of time is given to sharing my passion and expertise in leading tours. My 2021 calendar is full of group motorcycle and photography tours to Cuba and other destinations I love. I'll be eternally thankful for that first geography lesson at Rastrick Grammar School… even if, flummoxed by maths, I can still hear 'Mad' Eric's words in my ear: 'Baker, we'll have none of your Chinese methods here. What are you going to do in an exam? Think of a number and double it?
Bibliography
Back Roads California (Dorling Kindersley)
Bahamas and Turks & Caicos (Lonely Planet)
Cuba Classics: A Celebration of Vintage American Automobiles (Interlink)
Eyewitness Top 10 Cuba (Dorling Kindersley)
Eyewitness Top 10 California Wine Country (Dorling Kindersley)
Eyewitness Top 10 Puerto Rico (Dorling Kindersley)
Eyewitness Travel Guide Caribbean (Dorling Kindersley), co-authored
Eyewitness Travel Guide to Costa Rica (Dorling Kindersley)
Great Destinations: Palm Springs and Desert Resorts (Countryman Press)
Great Destinations: Panama (Countryman Press)
Great Destinations: Puerto Rico (Countryman Press)
Jamaica (Lonely Planet)
Mi Moto Fidel: Motorcycling Through Castros' Cuba (National Geographic Adventure Press)
Moon Costa Rica (Avalon Travel Publishing)
Moon Cuba (Avalon Travel Publishing)
Moon Spotlight Havana (Avalon Travel Publishing)
National Geographic Traveler Colombia (National Geographic Society)
National Geographic Traveler Costa Rica (National Geographic Society)
National Geographic Traveler Cuba (National Geographic Society)
National Geographic Traveler Dominican Republic (National Geographic Society)
National Geographic Traveler Panama (National Geographic Society)
Illustrated Guide to Jamaica (NTC Publishing/Thomas Cook Publishing)
Trav'bug California (Prentice Hall; with Judy Wade)
Travelers Companion Guide to Costa Rica (Globe Pequot, 3rd ed.)
Christopher P. Baker
www.Christopherpbaker.com
September 2020