He started playing as an eight-year-old at Meltham and Meltham Mills Band in Huddersfield. His first instrument was a battered old tenor horn that did not have a water key, but an old plaster which had to be regularly changed. Not long after, he progressed to the cornet, but that was only a stepping stone to him taking up the euphonium.
Stuart is the young cornet player standing at front - this was in 1953
He soon progressed and was invited to join the championship band at Crossley Carpets Works, under the baton of John Harrison.
In 1962, he was a member of the band playing 2nd euphonium to solo euphonium Geoffrey Harrison, at the national finals at the Royal Albert Hall in London. The test piece was Frank Wright's arrangement of Verdi's Force of Destiny. The band was drawn to play number 18, and on that day, it was a real championship performance. Stuart was thrilled on the occasions I play Crossley's old Paxton 10" recording of the test piece on my weekly radio programme. On the contest day, Crossley's were placed second behind the CWS (Manchester) Band, a performance that is still talked about today.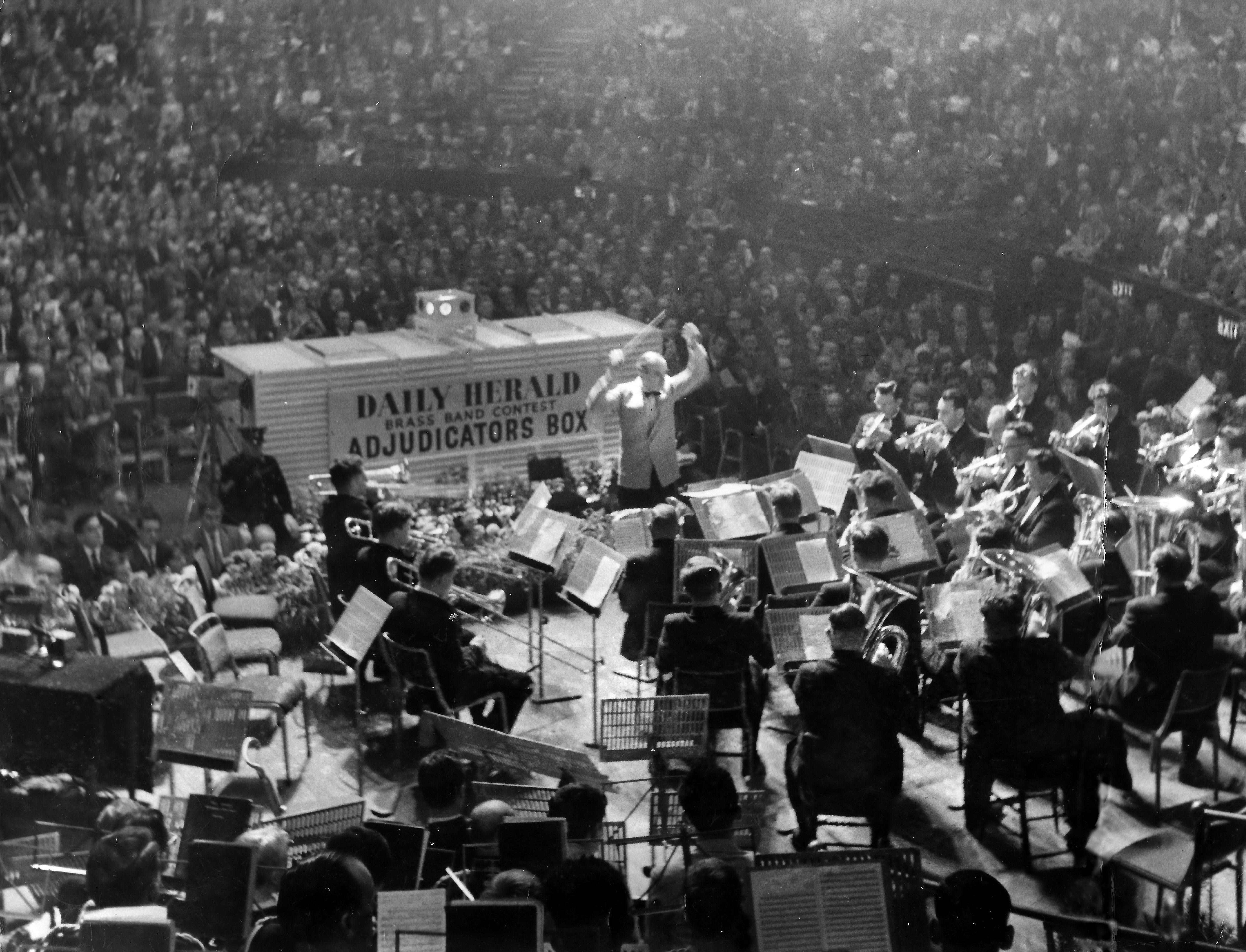 Crossley Carpet's Works Band MD: John Harrison - National Brass Band Finals at the Royal Albert Hall, London in 1962
In 1963, Stuart enlisted into the Band of the Coldstream Guards, where he served for 12 years. During which time he was promoted to the rank of sergeant and changed instruments to play the trombone.
After his military service, he emigrated to Australia having been appointed the Head of Brass and Director of Bands at one of the top grammar schools in Brisbane. A position he held for 14 years. He was also a Warrant Officer Bandmaster with the Australian Army. In 1985 H.M. The Queen awarded him the Order of Australia Medal (The OAM) for his services to music in Queensland.
In 1989, he returned to England and picked up playing again with the Meltham and Meltham Mills band, playing 2nd euphonium under conductor Douglas Taylor. It was during this time he also conducted Jayess Brass. Not long after, he was appointed the conductor at Skelmanthorpe Band which is based in the Huddersfield area. His next ten years were with this band and steered them to the Third Section National title in 1993 through to Championship status.
In 2000, he returned to the band he started with fifty years earlier, Meltham and Meltham Mills, only this time as the band's conductor. Stuart's conducting and his skill as a band trainer saw the band being promoted from the Second Section to the First. His final contest with the band brought promotion to the Championship Section.
For many years he was a member of the National Association of Brass Band Conductors (NABBC) and, for a period, he served on the Executive Council and as the chairman of the Northern Area. It was whilst as a member of the NABBC he studied for the Licentiate Diploma in Brass Band Adjudication through Salford University and was awarded the Diploma in 2003. He was also a member of the Association of Brass Band Adjudicators (ABBA).
It was whilst as a member of the NABBC that I got to know him, and, for many years he would regularly review new brass band CDs for the association's website, which I have the responsibility of sending out to reviewers. This was a job he often told me he really enjoyed. Even when I sent him a CD from a German band where all the sleeve notes were written in German. He still managed to put in a review to his usual high standard, and when I sent him one from the Italian Brass Band and the sleeve notes were written in Italian. He looked forward to it, not that he could speak Italian, but knew someone that could, again another wonderful review soon followed.
In recent years Stuart had dedicated his time to Meltham's Junior Band, a role he retired from only last year.
Stuart was a real gentleman and will be sadly missed by everyone associated with Meltham and Meltham Mills Band, the junior band and the wider brass band family. The band sends their deepest sympathy to all of Stuart's family and close friends.
The funeral will take place on February 25, at St Bartholomew's Church, Greens End Road, Meltham, Holmfirth HD9 5NW at 1 pm, followed by a private committal.
Chris Helme
Sunday Bandstand